Your Solution to Overcoming Unreasonable or Uncooperative Claims Adjusters
We Work with Contractors as Well
Answer this Question
Once you have made a supplemental claim and requested a re-inspection, what are you going to do if the re-inspecting adjuster simply refuses to negotiate a fair and equitable settlement? Since it's now illegal (Texas Insurance Code Chapter 4102) for your contractor to negotiate an agreed price between you and your carrier on a claim, most consumers become frustrated and aren't sure what to do.
HERE ARE THE 4 THINGS YOU CAN DO
1. Litigate
Hiring an attorney CAN be effective, very effective at times. Nevertheless, litigation can become expensive and very time consuming – who wants to wait half a year to a year or more?
2. Do Nothing and Take it on the Chin

This is what the vast majority of consumers do, because they're not sure what to do or they're afraid to go up against their insurance company.
3. Refer Your Claim to a Public Adjuster
Like litigation, if you hire a PA, it may become expensive and time consuming as well. PA's charge as much as 10% of the claim proceeds, in such cases cutting a huge amount of your claims proceeds with their fee. The biggest disadvantage of using a PA is they have to continue working with the obstructionists – the same unreasonable and uncooperative adjusters that you've been saddled with, although to be fair, they do have significantly more leverage than you do.
Simply Hire Us
The best option (in our opinion) is for you to hire us. The appraisal process circumvents the obstructionists – those unreasonable and uncooperative adjusters.
They have zero input into the process once they've selected their appraisal for any given loss. This is one of the many reasons that both Attorneys and PA's hire us once they have been hired by your clients. We get them results; they pay us and keep the difference.
Your Solution to Overcoming Unreasonable or Uncooperative Claims Adjusters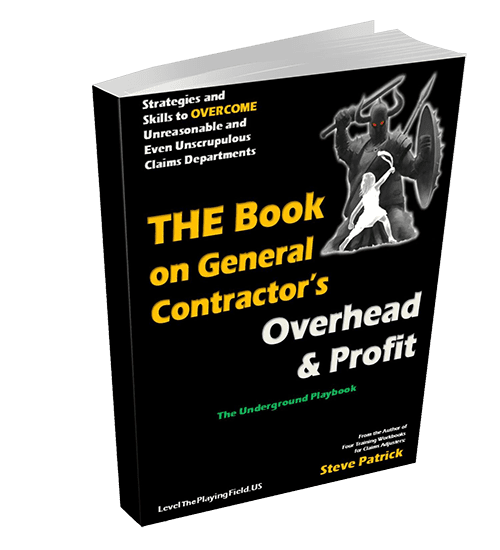 Request our free eBook of additional information or schedule a phone meeting
Text EBook to (214) 496-5182
In Our Free eBook, We Teach Contractors How to...
LEVEL THE PLAYINGFIELD FOR their CLIENTS AND GET THEM RESULTS!
Correctly file a supplemental claim and request a re-inspection – we even provide a sample letter in our eBook that is very effective.
Best explain deductibles and depreciation to their clients.
Understand the way adjusters think and what motivates them. We have decades of experience as contractors and adjusters.
Get roofs legitamtely totaled many times when the carrier is refusing.
Handle the cosmetic damage excuses carriers give.
Educate their clients with a handout we created so they never have to eat another deductible ever again.
We also teach contractors how to get GCO&P.